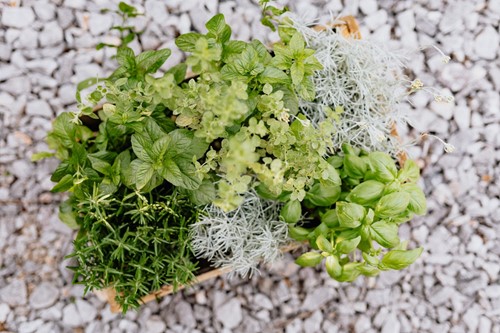 Do you dream of growing your own herbs but only have a tiny outdoor space? The good news is that it's possible to have a thriving herb garden on your small porch or patio. With the right lighting and temperatures, you can grow a plethora of fresh herbs to use in your cooking or other projects. Here we'll go over some of the best ways to DIY your own patio herb garden:
Hang Out
Hanging planters are a smart way to make use of the vertical space you have on your patio. You can either hang planters from wall brackets or from a ceiling overhang if available. There are many styles and designs for hanging planters available and many of them you can DIY easily. Try macrame plant hangers with space for multiple small pots. You can also opt for miniature hanging shelves built with wooden planks and rope to hold multiple pots. With the many tutorials available for crafty gardeners, you will find the best option for a DIY herb garden.
Think Vertical
An extremely popular and simple way to plant many individual herbs while saving space is to use a plant wall system. These come in a variety of styles but the basic idea is easy to mimic with tools and materials you might already have. Using a trellis as your base for hanging individual plants is one way to get started. You can also repurpose cloth shoe hangers or metal shower caddies to hang against the wall. You'll be able to fit many herbs while saving precious floor space. It will also create a visually pleasing work of functional art by covering a wall with fragrant greenery.
Try a Multi-Section Planter
A simple and convenient solution to a patio herb garden is to use what many call an herb planter or sectional planter. These are basically regular box shaped planters with individual sections to plant herbs without them trying to compete for nutrients or root space. You can purchase these herb planters ready-made or you can create one out of your choice of container. Anything from simple wooden boxes to large metal tubs will work perfectly once you add simple plywood partitions and drainage holes.
Important Things to Consider
While it's possible to grow many herbs in a small space, some of them have very specific light and water requirements. Before setting up your herb garden, make a note of how much sunlight your patio gets during the day and plan to place your herbs accordingly. Also consider the difference in watering needs. For drought-tolerant herbs, go with sage, rosemary, thyme and oregano. Group together the thirstier plants like basil, cilantro and tarragon. This will not only help the plants stay healthy, but make your care routine much easier and more efficient.
Along with these suggestions, it's important to research your plants carefully to know how best to care for them. Use these DIY ideas as a guide to create your own successful and thriving patio herb garden even in the smallest of spaces.